Sharing of Department Summer Internship 2018
Census and Statistics Department
CHAN, Cheuk Hei, BSc in Statistics
I am grateful I could work in the General Household Survey Section (2) of the Labour Statistics Branch (5) this summer. This section is mainly responsible for calculating the unemployment rate and another relevant indices based on the results of the General Household Survey.
My duties included creating a readable file for Canadian Census Editing and Imputation System (CANCEIS). This imputation system helped to handle missing problems and inconsistencies between the data. Because the original datasets consisted of several parts and had some problems that were unreadable for CANCEIS, I used the SAS programs I had learned how to use at the CUHK. I merged the dataset and converted the format so it could be read by CANCEIS. Apart from preparing the input data using SAS, I had to prepare other necessary components for CANCEIS. For example, I had to convert all the validation rules in GHS to a Decision Logic Table in CANCEIS and check to see whether they were correctly built.
My supervisor had told me that Hong Kong was just beginning to use this system and that many problems might be found when using it. I did face many difficulties. Spending some time to understand the principles of the system and discuss it with my teammates, I still worked out the solutions and completed the tasks my supervisor had given me.
I enjoyed working in the C&SD for these two months. I am thankful to the Statistics Department and C&SD for giving me this experience.
---
Census and Statistics Department
CHIN, Yan Yi, BSc in Statistics
In this internship programme, I was assigned to the General Household Survey Section (2) of the Labour Statistics Branch (5). Apart from collecting data on the labour force, employment, unemployment and underemployment, this section collected information on the demographic and socioeconomic characteristics of the Hong Kong population.
My duty was to prepare the necessary Canadian Census Editing and Imputation System (CANCEIS) input components in Excel format for reading the General Household Survey (GHS) datasets. The input components included a data dictionary, imputation parameters, system parameters and decision logic tables (DLT) for the GHS validation rules. For the DLT, I learned how to use a deterministic engine (set conditions and actions) and donor imputation (set rejection rules) to validate the data. By setting the weights and distances of the imputable variables, I understood more about the logic and theory of how the CANCEIS validates data.
With assistance from my supervisor Ronald and my internship buddy Harry, I repaired the errors effectively and improved the input components while reading the datasets into CANCEIS. I realised the importance of effective discussions for solving problems, as it greatly enhanced our working efficiency and results. Ronald shared his personal experience and point of view when advising me on my future career planning. The other colleagues were also willing to help and talk to me. I am proud and happy to have been part of the team and to have worked with them.
Overall, this summer internship programme was meaningful and delightful. I would like to express my gratitude to my supportive supervisor and colleagues. The soft skills and statistical knowledge I learned this summer will definitely help me prepare for my future career.
---
Census and Statistics Department
LAW, Tsz Yan, BSc in Statistics
Over the past two months, I was mainly responsible for the Technical Secretariat. I had three tasks: conducting desktop research for seasonal adjustment methods and big data development, testing the effectiveness of frequency for seasonal adjustment methods and assisting in the SAS programming and tabulation work for a study of the earnings mobility of Hong Kong university graduates. I was quite confused with my task at the beginning, however, fortunately my supervisor was friendly and was always willing to listen to my difficulties. Finally, I successfully completed over 2,000 revised tables on time thanks to the supervisor's helpful reminders.
Because my supervisor knew I was interested in machine learning, she invited her colleague to set up a talk for me and another summer student. He mainly focused on how machine learning can help distribute the codes for shipping statistics, which would undoubtedly boost efficiency. This really widened my horizons and helped me learn more about the mechanism of machine learning.
I am so grateful to have been selected to join the C&SD programme this summer. I learned a lot and enjoyed the working environment of the department. With my nice colleagues, I had a fruitful and memorable experience during the two months. I hope the skills I learned this summer can be applied to my future career.
---
Census and Statistics Department
PENG, Zhichao, BSc in Statistics
During a two-month attachment programme, I was assigned to the Science and Technology Statistics Section. This section is mainly responsible for collecting statistics that reflect public technology usage and innovation status in Hong Kong. These are important factors in defining Hong Kong as a knowledge-based economy.
One of my tasks was to build up a platform in Access that enabled users to input and manage news information and generate news reports. The platform was built using Access VBA and SQL. I also did some program migration from FoxPro to Access VBA. My last task was to review some questionnaires and reports released by the S&T section and offer suggestions on how to improve them. I was pleased to refine my skills through real work tasks and apply what I had mastered at the University, like SQL and survey design knowledge. At the same time, I learned new things like Access VBA and understanding the entire survey process of the S&T section.
My supervisor at school, Professor Phillip Yam, also gave me tasks to compile LaTex notes and translate machine learning material, from which I learned a lot about both coding with LaTex and machine learning. He is such a nice person, and gave me many suggestions on learning. I would like to thank him for being patient with me for the entire time.
I would like to express my gratitude to the Department of Statistics for offering me this internship opportunity. I sincerely hope that more statistics students can benefit from such internship programmes in the future.
---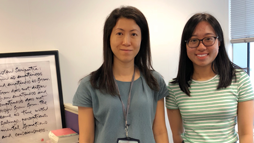 Census and Statistics Department
WONG, Ki Yan, BSc in Statistics
I was very pleased to have this precious opportunity to work as an intern in the Census and Statistics Department this summer. I was assigned to the Balance of Payments Branch (1) and supervised by a statistician, Miss Tam.
My main assignment was to conduct desktop research on the latest international developments in the International Investment Position (IIP), mainly in the area of the IIP reconciliation statement and IIP by currency. At the beginning, I was entirely new to the concepts of economic statistics and it was difficult for me to perform research on these challenging topics. However, thanks to the expertise and guidance of my supervisor and colleagues, I quickly picked up the conceptual ideas of the research topics.
Throughout the entire internship, I not only gained financial knowledge, I also acquired practical soft skills. I had regular consultations with my supervisor, who gave me professional suggestions and guided me in improving the organisation of the results I got. This was useful not only for this internship but also for my future career. At the same time, my supervisor talked to me about the work of the department and statisticians, which helped me acquire a more concreate understanding of the C&SD workplace.
I was glad to have this valuable experience working at the C&SD. I would like to express my gratitude to my supervisor Dr Ho, Miss Tam and my colleagues. This real-life work experience will certainly help me in the future.
---
Centre for Clinical Research and Biostatistics
FUNG, Wing Ngai, BSc in Statistics
During my two-month internship, professor Zee allowed me to analyse a dataset and then write a paper. I could apply the analytical skills I learned from school, such as univariate and multivariate analysis. I also needed to learn some analytical skills on my own, such as multiple imputation and categorical data analysis, because I had not studied them previously. Professor Zee taught me how to write an analysis plan so I could perform the analysis in a more systematic way. The people working at the CCRB were very nice and willing to help. Whenever I had difficulty with the analysis, they patiently taught me. Although conducting the entire analysis was challenging work for me, with great help from professor Zee and the CCRB staff, I finally finished it.
In addition to this work, I participated in some outreach services for the elderly. We helped the elderly assess their stroke risk level using an invention developed with statistics. My duties were to explain the procedure and the assessment mechanism in layman's terms. Helping the elderly was very meaningful. The invention also widened my horizon because it showed me how statistics apply in real life.
This summer internship programme was very meaningful. It provided me with a chance to conduct analysis so I could achieve a deeper understanding of research work. I think this experience will be very useful to my future work.
---
Centre for Clinical Research and Biostatistics
Ng, Suet Yi, BSc in Statistics
Working at the CCRB during a two-month summer internship was a great experience. I am grateful to have been given an opportunity to work with Professor Zee and the CCRB staff. They all offered to help me with my work at the CCRB.
The main task I was assigned was to do a report analysing a dataset. To do the project, I was asked to use the statistical skills I had learned at school. Before writing the report, I was asked to write an analysis plan to determine what statistical method should be applied to the analysis and what the objective of the report was. Because it was my first time writing an analysis plan, it was not done well at first. However, Professor Zee kindly explained how to do it. He also taught me the importance of communicating well with others, because knowing what your supervisor required was important.
Apart from writing the report, I also had a special experience during the internship: collecting first-hand data. In school, we seldom got a chance to collect the data ourselves. Most of the time, we were given a dataset by the professor to do the analysis. However, during the internship, there was another study in which subjects had their retinal images taken and their health information collected to examine their life styles and analyse their risk for stroke. Through this process, I understood that data collection was an important part of the analysis because the data we obtained would affect its result.
I am grateful for this valuable opportunity to work at the CCRB this summer. The people I met there were nice and they taught me a lot that the books did not. It was great to be a part of the CCRB's summer programme.
---
New Media
TSE, Kwan Nok, BSc in Statistics
Working as a summer intern at the New Media Group was a precious opportunity and rewarding experience for me. I was assigned to the Web and Application Platform Team, which was responsible for the company's IT and database management. During the internship, my primary duty was to restructure and refine the existing customer database, which was vital to the company's strategy for E-mail Direct Marketing. I was so excited to apply the theories I had learned from lectures to real-life scenarios. Through the database refinement project, I also helped maintain the website of a magazine under the group. I had to keep track of the viewer's statistics and run analysis on the data. From time to time, I was also given the opportunity to participate in meetings and assist in projects related to marketing. All this work gave me an exquisite chance to observe how businesses apply statistics in the era of big data and data mining.
Although I was the only intern and youngest member on the team, fortunately, everyone in the office welcomed me enthusiastically and helped me whenever I stumbled across problems. They were great mentors at work. They also gave me a lot of insights into the industry, which have been very useful to my career planning. Having completed this internship, I have more confidence in my interpersonal and problem-solving skills. I enjoyed my work at the New Media Group very much.
---
New Media Group
XU, Weiwei, BSc in Statistics
This summer, I received the chance to do a summer internship at the New Media Group, which enriched my summer life and improved my practical statistical skills.
This internship lasted one and a half months. During these days, I tried various tasks, such as acquiring and managing data from primary or secondary data sources, interpreting data, analysing results using statistical techniques, providing ongoing reports and filtering and cleaning data by reviewing the reports. These tasks gave me a clear picture of my future job. They also reminded me to learn to convert theory into practice, which was good for my progress. Through this experience I recognised myself again. I found that I lacked a little bit of creativity, even though I made a down-to-earth effort. In the days to come, I will try my best to make up for my weakness and improve myself.
What impressed me the most was that the people at the NMG were hardworking and cooperative. Whenever I was confused or had trouble they were all happy to help me work it out. Therefore, I made friends and learned a lot from them.
In a word, I really appreciate that our department and the New Media Group gave me this precious opportunity and let me grow up.